Cloth Braided Primary Wires
Wide range of colors for your vintage hot rod restoration. Available in 6, 8, 10,12, 14, 16, and 18 gauge.
Woven split looms & Asphalt coated looms in 3/16" up to 7/8" inner diameters.
Spark Plug Wire Parts & Accessories
Parts and accessories for your custom build. Ignition cables sold by the foot, boots & terminals sold individually, and aftermarket parts from reputable manufactures like Tayor, MSD Ignition, Accel, Moroso, etc.
Complete Kits
Full service wire assembly available for your custom car/truck/motorcycle ignition wire needs. If we stock the parts, we can ship it fully assembled ready to install! Contact us with what wires you're interested for a quote!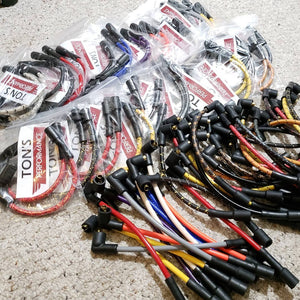 Ton's Performance - Quality Aftermarket Products
We have a variety of parts ranging from vintage reproduction cloth spark plug wires, boots & terminals, braided primary wires, and even aftermarket parts and accessories for motorcycles.

Check out our shop for any parts you may be interested in for your project. 

Some of the brands we carry:
- Moroso
- MSD Ignition
- PerTronix Ignition
- Taylor Cable
- Ton's Performance
If there's a specific part number you're interested in, we may have it in stock!